Virtual Reality for Differently-abled People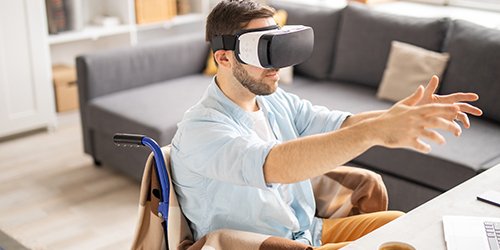 Virtual Reality, that shows a Virtual World in Reality.
By using the VR headset, one is able to visualize himself in another world. Virtual Reality technology helps the industries of different domains to promote their business to potential clients. For every business, providing correct information to the clients is the most important part, a small miscommunication can deliver the wrong message and business loses their important clients.
For sharing the right message to the right customers, industries use different techniques like Television Ads, Newspaper ads, Internet ads and nowadays the industries are using the Virtual Reality technique to share the information. With VR technology, industries make their reach to any corner of the world by providing their customers the audio-video data which they can see over VR headsets. Most industries do not have any fixed customers, their customer maybe everyone, and among them, some are differently-abled people who are unable to make their reach to the industries, to understand about the product or services, for those people VR is very helpful to gather the information they are looking for.
We are in the era of technology where everything is possible in the touch of the button. The technologies are changing our experience and giving us a new way of experiencing things which we have never experienced before. The technology of today makes us realize that with these available technologies we can do/explore many things anytime anywhere. Virtual Reality [VR] makes it possible. A VR device helps users to experience feel and enjoy the new level of excitement entertainment & experience. VR is the technology that helps users to explore many places, it is helpful for any audio-visual training.
People across the globe love to move out, they love to explore unseen places, hence they plan and act accordingly and experience the same. But have you ever thought about how differently-abled people can do all these things, they do have dreams, they do want to explore the world, they also want to see & experience the joy of moving out, but they failed to do so, as they don't go beyond their chair. Their reality vanishes their excitement. But as we have mentioned above, today technology is king, VR makes it possible. With the VR now differently-abled people can experience unlimited fun without any interruption.
If differently-abled people cannot go to the places, the places will come to them, this sounds unreal but now it is possible with VR. With audio-visual content in VR help them to see & feel. The VR technology gives them the real experience in the virtual world, by experiencing VR they never regret things/places they have missed or not explored. Tough VR is virtual, it gives tremendous real emotional and entertaining experience. With VR they can explore the unexplored anytime anywhere, just they need to were a device and the endless entertainment starts.
The experience of VR is indescribable because it will take you to a different world altogether, whether it is a tourist destination, gamming, education & training, or entertainment. It will melt users in seconds and gives an exceptional time. So, certainly, the VR technology makes users laugh, cry and melt in the virtual world.
Now, differently-abled people will have to face any regret, as far as the virtual world is there. The VR is a revolution that touched the emotions of differently-abled people and people at large.